The definition of Preferred Price and how it relates to repricing within your Marketplace Management account.
When utilizing the Marketplace Management repricing software, you will notice several Price fields within your Listings Workspace. These fields each have a different function and you can leverage our Preferred Price field to optimize the selling price of your items (depending on your competition).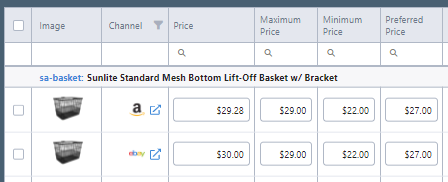 Before we get started, the Price field is the value that is sent to the sales channel on a consistent basis so whatever number value is seen under "Price" will be what is visible to your buyers.
What is the best use of the Preferred Price?
The Preferred Price is used primarily in combination with your repricing strategies. You can set a "fallback" option where if your competition requirements are not met, we will change the selling Price to your Preferred Price. This option would be seen under Tools -> Pricing Strategies -> Your specific strategy -> Profit Protection -> Fallback Strategy (optional).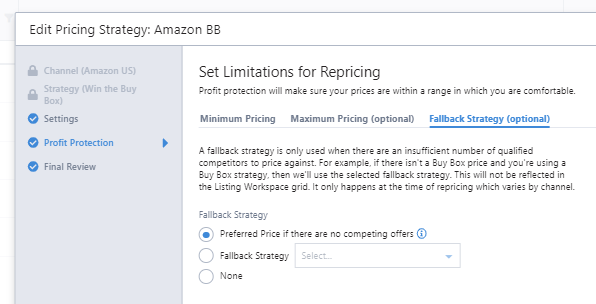 For example:
Let's say your selling price is $50 on Amazon and you're competing for the Amazon BuyBox with a Target Position strategy. If the Amazon Buy Box is removed, you will no longer be competing for Buy Box ownership. With this setting in place, instead of staying at $50 you would move to your Preferred Price which could be 3x higher than your selling price.
You can see this Price within the Listings Workspace or within the SKUPane itself.
The Preferred price is a value that you can update in bulk or one by one within the Listings Workspace.
This value is unique per sales channel so you can have different Preferred Prices.
We see the Preferred Price as the optimal price point that you would want to sell your specific listing at regardless of competition or other factors.
The Preferred Price ignores your static or dynamic Minimum or Maximum Price but we do suggest establishing your Preferred Price within your repricing bounds.
You can create as many strategies as you want so you can have different outcomes depending on the strategy itself.
How can I apply the Preferred Price to my listings?
You can assign these in bulk or one by one within the SKU itself. You can follow this upload template (DOWNLOAD TEMPLATE) and upload the file into your Listings Workspace (Listings Workspace -> Import)
This does follow a specific file format (unlike the Product Import).