Setting up your listings for publishing to eBay and Walmart
When you start to publish your listings to eBay and Walmart, it is important to know which shipping/business templates are in use prior to publishing your listings. Within your integration's page (Settings -> Integrations -> eBay or Walmart) you will notice a "Listings Details" section where you can assign your templates.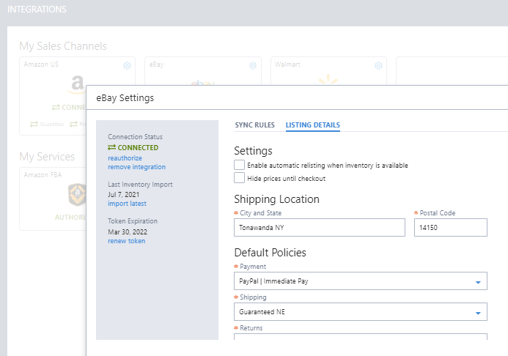 The options you chose from this Listings Details page will be used for all Publishing attempts to eBay and/or Walmart (also known as the master setting) moving forward.
If you are NOT publishing listings through Marketplace Management, you will still need to assign your templates on this page (when the integration is established). Marketplace Management will not automatically push these updates to your pre-existing listings.
If you want to assign templates on a per SKU basis, you can also perform this action from within the Listings Workspace.
If you assign your business templates per SKU, those options will hold priority over the master setting option.
If you run into an item level error where "Location" is required, this Listing Details page is the page where you assign that Location for eBay.
Frequently Asked Questions
Will assigning these business templates to override what I have on the sales channel?
Depending on how your SKUs were created (i.e. with Marketplace Management, another third-party service, or on eBay directly), that would impact the answer to this question. Our best suggestion is to leave the master settings in place and do not assign shipping templates on a per SKU basis.
Assigning a shipping/business template on a per SKU basis forces the SKU's templates to override all Marketplace Management and eBay template defaults with each future price and quantity update to eBay. If you have not published listings through Marketplace Management or don't intend to, we do advise not setting up the per SKU option. We suggest leaving this setting on the master setting level.
If you have published listings through Marketplace Management you can choose either to leave the master setting in place or assign the templates on a per SKU level. It is not required to have that option assigned on a per SKU level and would be easier to remain established on the master setting level.
Why is this master setting option not available for Amazon?
At this time there is actually another way to update your shipping templates for Amazon. This is done on a per-SKU basis. You can follow our guide HERE.
There is no master setting option at this time.
When I go to my eBay listing I am not seeing the master settings that I have selected from the Listing Details page. They are all marked as None. Is that a problem?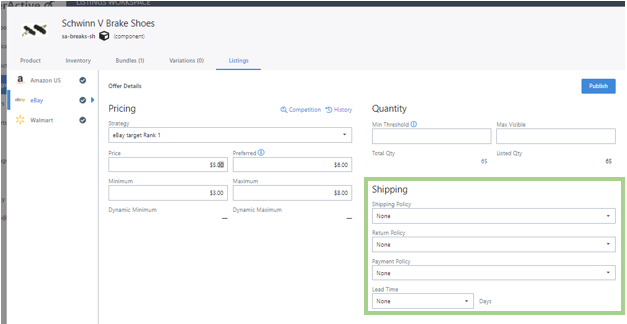 No, that is not a problem. Marketplace Management will take the master setting from your eBay integrations page and send that information with every publishes attempt to eBay. If these options are not filled out then we will default to your master settings. If these fields are filled out then that will be what is included with our publish attempts and price/quantity updates moving forward.