Establishing the proper order workflow is crucial to having success with Marketplace Management and if orders are not reaching our system, that could lead to overselling.
When you first start utilizing Marketplace Management, questions will come up regarding your current workflow and how to best use Marketplace Management to fit your needs. A big decision to make is how your orders will be managed and referenced within our platform; not all workflows are created equal.
The most important thing to note is: We will need to import orders from your integrated sales channels in order to properly deduct quantities.
Our integration settings (Settings -> Integrations) can be enabled to not import orders from your sales channels but this is not encouraged. If Marketplace Management does not import your orders into our system then we will not be able to deduct quantities as you would normally expect (manual changes to your available quantities, bulk uploads, and imports from the sales channels (if enabled) would still work as expected).
Within each set of integration settings, you can turn the Import order ON or OFF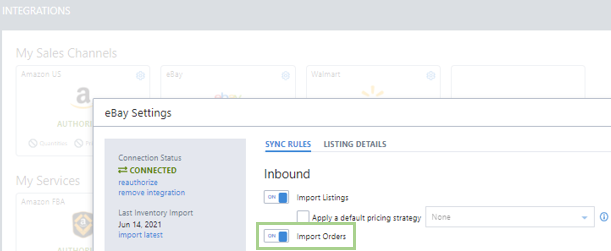 Here is an example of the expected order workflow for quantity deduction purposes:
An order is placed on eBay.
That order is imported into Marketplace Management and Marketplace Management proactively checks the SKU that is ordered and isolates the highest priority Fulfillment Center with available quantity.
The appropriate Fulfillment Center is assigned to the order and quantity is deducted from the Fulfillment Center.
The quantity deduction triggers an update back to every sales channel with that same SKU.
This entire process happens within seconds!
You can verify which Fulfillment Center/Location is assigned to your orders at any time within the Orders workspace.
If you decide to NOT have Marketplace Management import orders on your behalf, it is crucial to make sure that your quantities are being updated from another source (to Marketplace Management).
Some of our users decide to not have Marketplace Management manage their orders. In exchange, they have set up a process in order to have updated quantities reach Marketplace Management. The options available to you are: