How to solve eBay publishing errors involving missing policies or return options
When you first begin the publishing process to eBay through Marketplace Management, you will be required to opt into eBay's new business policies. Once opted in, all of your business policies will be imported automatically from eBay to Marketplace Management. These are required to be assigned to your items prior to publishing or else you might run into the following errors:

You can assign default shipping policies within your eBay integration settings or you can assign them within each unique SKU. If you assign policies within the SKU then it will be prioritized over your default options. You may also assign the shipping policies to multiple SKUs at a time in bulk from the Listings Workspace using the bulk operation option.
Default options within your eBay settings:
Settings -> Integrations -> eBay -> Listing Details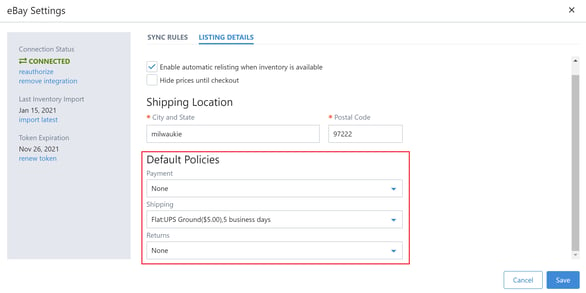 Within the Listings Tab of the SKUPane: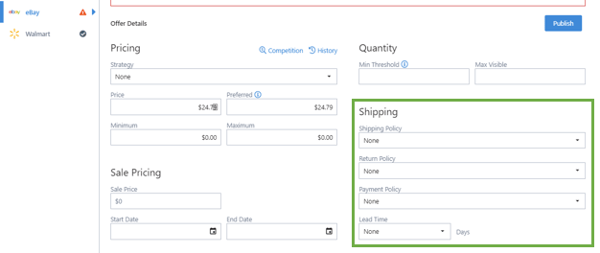 Shipping Policies By Bulk Operation: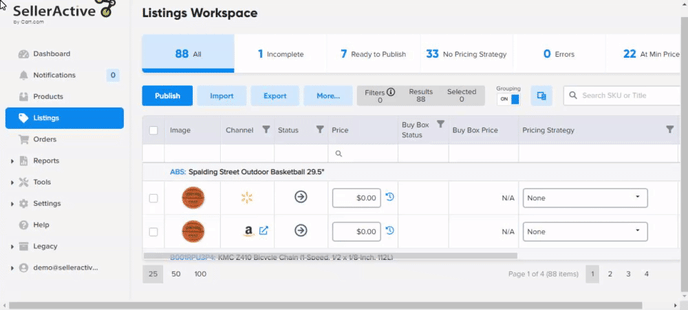 Once the policies are established, then you can attempt to publish the eBay listing again.
FAQs
I don't see the eBay policy options I would expect. How can I prompt all of my policies to be imported?
The policy information is submitted to us on a consistent basis and that happens multiple times a day. The reason the policy may not be visible is that it might have been newly created on eBay's end. We expect all new eBay policies created will be visible within Marketplace Management within 12 hours.
If you do not see your eBay policies within Marketplace Management after 12 hours, please reach out to support@selleractive.com
Will editing the policies within Marketplace Management impact my already existing listing on eBay?
Editing the policies within Marketplace Management will not impact the eBay marketplace unless you explicitly try to publish your listings to eBay through our system. You can adjust the policies as many times as you like before you actually publish the product in question.