You can assign shipping templates in bulk or one-by-one for your Amazon, eBay, and Walmart listings
Within the last few years Amazon, eBay, and Walmart have shifted to a new model for handling your shipping options. As a seller, you would create these templates on the sales channel directly and Marketplace Management will import those templates automatically after they have been integrated.
Marketplace Management allows you to update these templates in bulk and those changes will be sent to the sales channel immediately after being assigned in our system. There is no quantity, price, or Publish attempt required.
Definitions:
Handling Time - The estimated time between when the buyer placed an order until you hand the order over to a specified delivery service. This does not include the time that the package is in transit to the buyer's address.
Shipping Template - The specific shipping options that are available to the buyer on a given listing. For example, the buyer can choose Flat Rate Shipping, Expedited Shipping, or Freight shipment options.
How to update shipping templates one-by-one
You can update the templates one-by-one within the Listings tab of the SKUPane. You can select any SKU from either workspace grid and select "Listings". You will see a "Shipping Policy" dropdown menu for Amazon, eBay, and Walmart.
This list will be pre-populated with what was imported from your sales channel.

How to update shipping templates in bulk
You have the ability to apply the Shipping Template in bulk from the Listings Workspace using the Bulk Operation option (Select listings > Select the Bulk Operation button > Apply a shipping policy > Next > Select the shipping policy and Apply)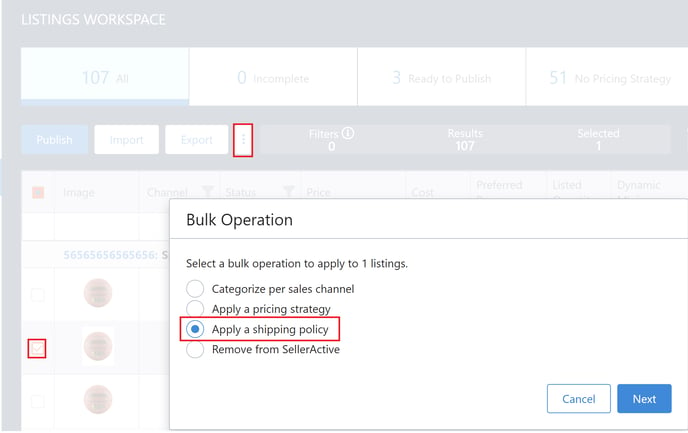 You can also select multiple sales channels and assign templates at once: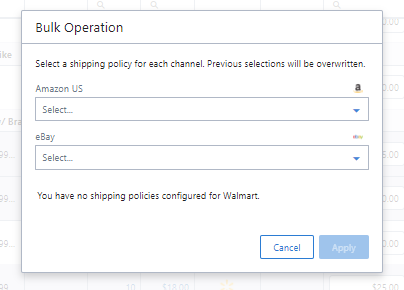 You cannot upload shipping templates with a flat file via the Products or Listings workspace at this time.
Site specific references:
Frequently Asked Questions
Does Marketplace Management override the shipping templates that are pulled in from my integrated sales channels?
Marketplace Management will automatically import your shipping templates and work with the templates that are assigned to your channels. Marketplace Management will include those template names within the SKUPane and the integrations page to allow you to select your available options.
Because we import those values directly from the sales channel, we will not remove or override what is there. If you explicitly change or edit the shipping template after your SKU's are imported we will send an update to the sales channel.
My shipping templates are not displayed within Marketplace Management. How often is that information pulled in?
We expect all shipping templates and profiles to be imported at least once every 24 hours. If you have changed or edited the name of the strategy on the sales channel, that might take that long to reflect back to Marketplace Management.
Can I create shipping templates within Marketplace Management?
No. At this time you cannot create shipping templates. We will associate with the templates that already exist on the sales channel.
Can I use this feature for any sales channel?
At this time we support Amazon, eBay, and Walmart shipping templates. If you have not established a shipping template then the bulk options will display as such: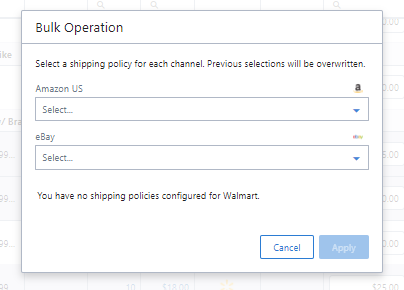 All other sales channels will show a similar error message/prompt when working with the SKU's in question.