Your Marketplace Management account gives you the ability to create locations for your SKUs. Locations will be marked within the Order Manager when a purchase is made. Here's how to add a fulfillment center/location.
Things to note
If you do not set a custom Default Warehouse prior to integrating your sales channels, all of the quantities of your items will import and then assigned to "My Warehouse".
Within Marketplace Management, "Locations" actually refer to Fulfillment Centers, e.g. "West Coast Warehouse", as opposed to a shelf location within a warehouse.
If you are working with Flexport (previously Deliverr), Deliverr (Flexport) is its own location, separate from your own personal warehouse.
If you set a location for your items, you will be required to specify a location whenever you update quantities going forward.
Locations must be prioritized in descending order. The location you set as your #1 priority will be used to fulfill orders first, and once that location has a quantity of 0, Marketplace Management will automatically begin to fulfill orders from your #2 priority location.
How to Add a New Fulfillment Center or Location
Fulfillment Centers can be added through the Fulfillment Centers page or they can be created in bulk using a file upload template.
Fulfillment Centers page
Go to your Fulfillment Centers page under Settings -> Fulfillment Centers
If you're creating your account for the first time, you might notice a Fulfillment Center here marked as "My Warehouse". This will be set automatically for you by default in order to establish a baseline for your catalog. The Default Fulfillment Center can be added and removed at any time.


Click "Add" to add a new Fulfillment Center. You can add the warehouse location address as well as make the Fulfillment Center your Default option:

Save your changes.

Adding a different Default Fulfillment Center will not adjust the quantity away from your previous Defaulted option. You might need to edit your quantities in bulk in order to properly re-assign the new Fulfillment Center or make additional edits/changes.
After your Fulfillment Center has been created, you will see it in the list of options within each SKU. If you do not create a Fulfillment Center then every non-FBA item will be assigned to "My Warehouse" by default.
You can review the Fulfillment Centers assigned to any SKU from the SKUPane. If you search either workspace, select the SKU, and then navigate to the Inventory Tab. You can also select the Quantity from the Listings Workspace to go directly to this page.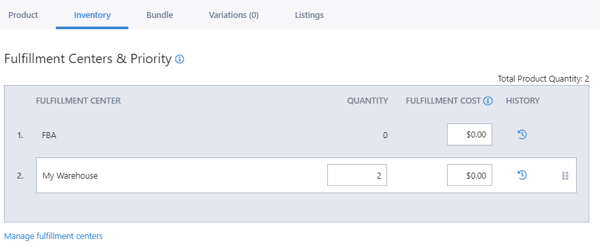 If you have more than one warehouse, drag and drop your location to assign the priority.

For more information on prioritizing Fulfillment Centers, please reference this guide.

Once you have set up and prioritized your Fulfillment Centers, you may quickly see on the Listings Workspace, which Fulfillment Center has priority for a listing by viewing the "FC Priority" column. The FC Priority will also determine the "Listing Qty" that is sent out to that channel. To see these columns, select the column chooser icon to drag additional columns to your view.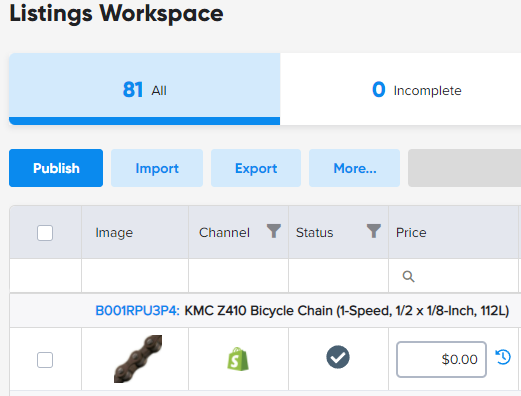 In Bulk
As noted earlier, the legacy application does see "Fulfillment Center" as "Location". They are one and the same.
You can create, delete, or modify the quantities of locations via a file upload. Location Priority is only required if you have more than one location.

Fulfilled by Amazon (FBA)
SKUs stored in Amazon's warehouses for faster delivery to the customer will be displayed as FBA SKUs.

Once the Amazon integration has been set up, an FBA Fulfillment Center will automatically be created within Marketplace Management and FBA quantities will automatically flow into the Inventory tab of the SKU Pane. Quantities will decrease as the items are sold on the marketplace and will increase once new shipments have been received by Amazon.
FBA will always prioritized first in the list of fulfillment centers and is ineligible to be sorted to a lower priority.
If you have inventory in both your FBA and in your My Warehouse fulfillment centers, the system will prioritize selling the FBA inventory. Once you run out of FBA stock, you can have it automatically switch the listing over to a Fulfilled by Merchant listing using the "Convert FBA listing to Merchant listings when out of FBA stock" in the Amazon integration settings.
You may also set up Multichannel Fulfillment using your FBA inventory to fulfill on other marketplaces and sites under My Services > Amazon FBA > Cross Channel Shipping.