"My Warehouse" is the default Fulfillment Center established with your Marketplace Management account to handle your available quantity on hand.
While reviewing your catalog within Marketplace Management you might notice that your items have the Fulfillment Center "My Warehouse" attached to them. Within Marketplace Management every SKU must have a Fulfillment Center if there is a quantity attached to the product in question.
If you do not select a Default Fulfillment Center, Marketplace Management will automatically assign "My Warehouse" as the Default option.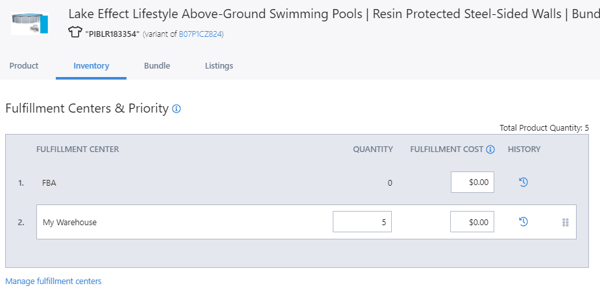 You can assign a new Default Warehouse at any time. You will find this page under Settings -> Fulfillment Centers.

After clicking the "Add" button, you can select your default option: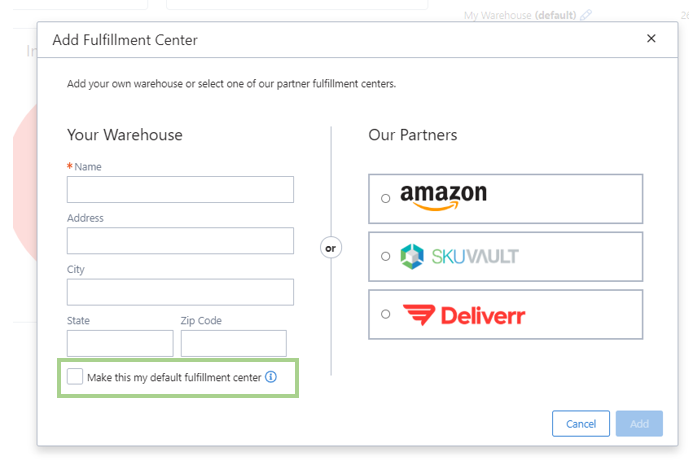 FAQs:


I am only using Marketplace Management for SKUVault, Flexport (previously Deliverr), or FBA capabilities. Do I still need to have a "My Warehouse" Fulfillment Center?
Unfortunately, you cannot set any of these three options as a "Default" Fulfillment Center at this time. We do plan on adding this in the future but in the meantime, there is the opportunity for SKUs to be assigned to "My Warehouse"
After integrating your sales channels with Marketplace Management, we will automatically pull in all of the active listings and display them within Marketplace Management. If this is the first time we have seen those SKUs in our system, we will automatically assign the quantity from the marketplace to your SKU and we would assign "My Warehouse" at that time.
The best way to prevent this from happening when you're first creating your account would be to create the listings in our system ahead of time (prior to integrating) and connect Deliverr (Flexport) or SKUVault prior to integrating your sales channels. That will prevent any SKU's from being assigned to My Warehouse.
If you have already integrated everything into Marketplace Management then the easiest option would be to perform a quantity update and zero out the My Warehouse quantities. If you need further assistance with this, please reach out to our Support Team for further guidance.


I can't assign SKUVault or Flexport (previously Deliverr) as the Default Fulfillment Center
At this time you cannot assign either of these options as your Default Fulfillment Center. We hope to add this in the future.


Quantity keeps getting added back to My Warehouse and I am not updating it myself. What is happening?
This situation typically occurs due to orders being marked as "Cancelled" within Marketplace Management. By default, there is a setting in place on your account that will increment the quantity after the order has been canceled. If you would like to turn off this functionality please reach out to us and we can make that account adjustment for you.