View the suggested steps to opt into this program, enable required integration settings, and set up your cross channel mappings for order fulfillment.
If you currently use Amazon FBA and want to use your pooled inventory to fulfill orders from other channels that do not allow the use of Amazon packaging and Amazon Logistics as a carrier, you can now do so using Marketplace Management's cross channel fulfillment feature and two specific settings.
Amazon Multi-Channel Fulfillment (MCF) provides fulfillment for any Marketplace Management supported channel for orders with U.S. addresses.
If you're new to MCF and sell more than 7.5K units a year on non-Amazon channels, or if you're currently leveraging Amazon MCF and planning on scaling to over 60K MCF units a year for cross channel fulfillment, let us know and we can connect you with an Amazon representative through our partnership for more personalized account management.
1) Opt-in to the Amazon Blank Box beta program
If you have an existing Amazon account integrated within Marketplace Management as of 11/19 and already leveraging MCF, we will auto enroll you into this beta blank box program.
If you're unsure about your enrollment status, reach out to your Marketplace Management rep and we can inquire on your behalf.
Not all Amazon fulfillment centers have the blank box option yet but Amazon is quickly rolling it out. To see if you already have FBA inventory that can be shipped in unbranded blank box packaging , you can check the Marketplace Management Inventory in your
Seller Central account here
. Once you are enrolled in this program via step #1, you can send your inventory to Amazon fulfillment centers using the standard inbound process you typically follow. MCF will automatically place your inventory in the Amazon network for unbranded packaging fulfillment.
2) Enable/Update your Marketplace Management integration settings for MCF
If you're new to Marketplace Management, view this article to learn more about the inbound and outbound settings to use depending on your workflow needs. Reach out to saasonboarding@cart.com for a complimentary onboarding session.

If you're using Marketplace Management only for MCF cross channel order management, here are the recommended minimum channel settings:

Amazon

Inbound: "Import Listings" and "Import Orders"
Outbound: "Allow Marketplace Management to manage and export order tracking"

Channels using MCF

Inbound: "Import Listings" and "Import Orders"
Outbound: "Allow Marketplace Management to manage and export quantities" and "Allow Marketplace Management to manage and export order tracking"
Before going live with outbound settings, meet with your account rep or reach out to support to get any questions answered and review your Fulfillment Center quantities in Marketplace Management to ensure your FBM and FBA inventory is as expected to avoid duplicated quantities.

If you're an existing Marketplace Management user, once you enable the block Amazon Logistics and Blank Box settings via step #3 below, you may be prompted to re-authorize Marketplace Management to enable these settings.
3) Set up or update your Cross Channel Shipping Mappings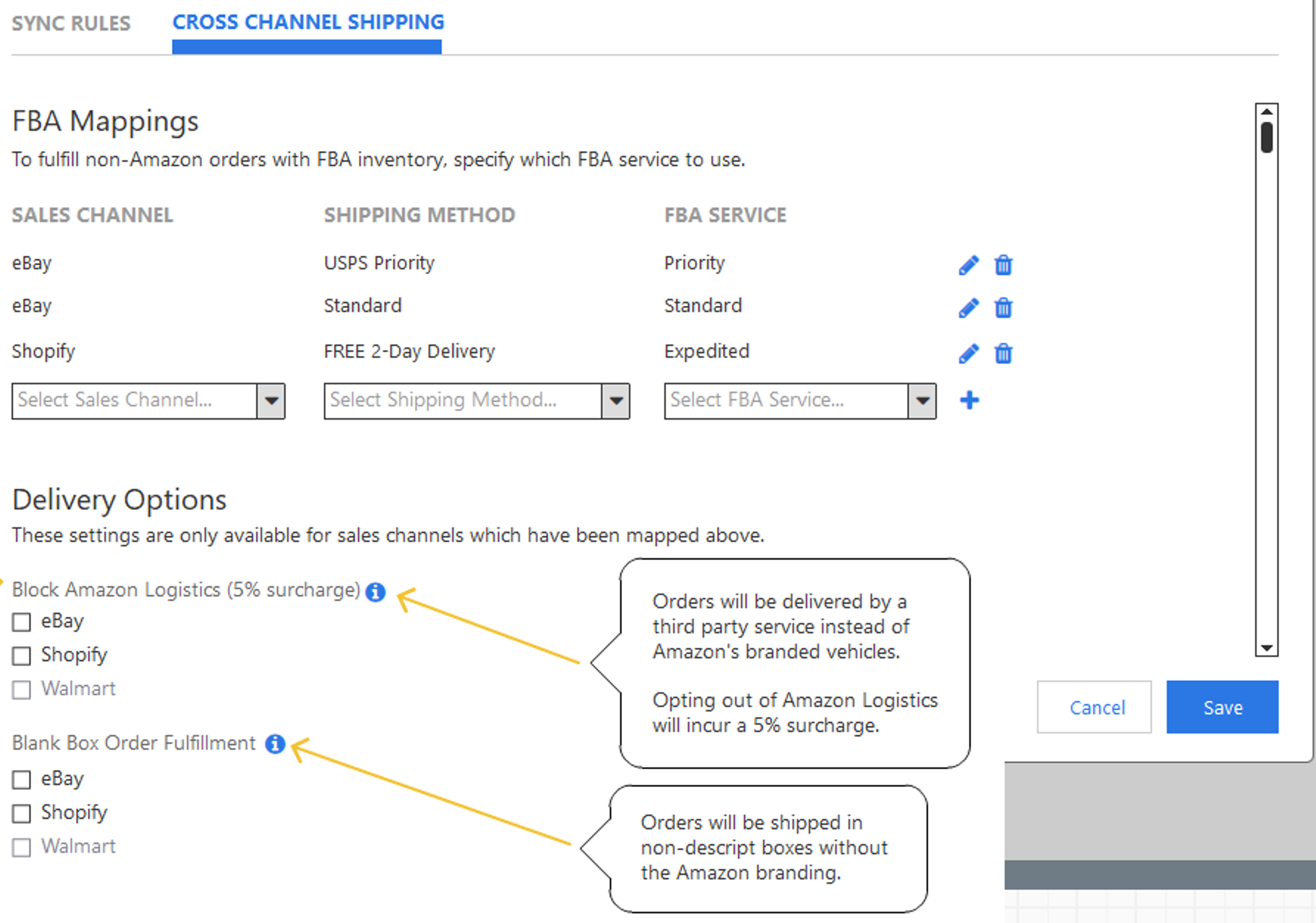 Settings > Integrations > Amazon FBA > Cross Channel Shipping Mappings

Ensure ALL channel shipping methods are mapped to a corresponding FBA Service (Standard 3-5 Days, Priority 2 Day or Expedited 1 Day).
If you haven't set up the mappings, view this video for a walkthrough on how to set up the shipping mappings.

Enable the "Blank Box" and "Block Amazon Logistics" settings for each channel you would like to set this for. You will be prompted to re-authorize.




Learn more about the unbranded "Blank Box setting."
Learn more about the "Block Amazon Logistics setting."

Note that blocking Amazon Logistics at either the account level or the order level will result in a 5% surcharge.
If you have "Block Amazon Logistics" set to YES on Amazon Seller Central, all of your orders will default to that.
4) Ensure your SKUs match across all channels
If your items are not yet listed on the other channels, publish the listings using Marketplace Management or publish them directly on those channels.
5) Orders will route to Amazon for fulfillment
As orders are submitted for Amazon MCF, within Marketplace Management's Orders workspace, the status will show as "Pending FBA."
As orders are fulfilled by Amazon MCF, tracking from Amazon will be imported into Marketplace Management and back to the channel. The orders' status will show as "Shipped" within Marketplace Management's Orders workspace.
If Amazon is unable to fulfill with Blank Box, your order status in Marketplace Management will be "Unfulfillable FBA" and it will also appear under the Notifications section. You will need to fulfill manually or cancel.
If MCF orders need to be cancelled, you will need to immediately cancel it directly on Amazon and also on the channel.
Marketplace Management will update the FBA quantity on the connected channel as inventory is updated by Amazon.
If you have both FBA and FBM inventory, FBA inventory will always be prioritized first.