Getting on Amazon Prime should be part of every sellers' e-commerce strategy. Selling on Amazon Prime brings faster shipping, increased conversions, higher customer spend, improved visibility, and a shiny blue badge.
However, how to get on Amazon Prime is another question. We're here to discuss different ways to get on Amazon Prime and the pros and cons of each.
What is Amazon Prime?
Amazon Prime is an e-commerce subscription service for Amazon customers. For $12.99 a month, members benefit from free and fast delivery, as well as exclusive sales, media content, groceries, and much more. The benefits don't stop at online shoppers either, as many e-commerce sellers see sales boosts as well.
The
B

enefits of Amazon Prime for Online Sellers

Some of the seller advantages of Amazon Prime are even more attractive than the customer perks. Amazon retailers are almost guaranteed increased conversions and customer spend through:
Amazon Prime Customers
With more than 100 million active members, Amazon Prime has a lucrative audience that increases your business' reach. Even better, these customers spend 4.6x as much as non-Prime customers and are 96% more likely to buy from Amazon over other retailers - increasing your customer lifetime value too.
Amazon Prime Badge
As the go-to online marketplace, there's no question about the trust that consumers place in Amazon. A Prime badge extends that trust to your business, offering customers an Amazon-backed guarantee of your delivery speeds and exemplary customer service.
Amazon Prime Listings
Amazon Prime listings rank higher, are more visible, feature in Prime-filtered search queries, and have an increased chance of winning the Amazon Buy Box - giving you more chances of being discovered while reducing competition.
Prime Shipping
And last, but by no means least, Amazon Prime is centered around fast, free, and unlimited shipping - the most influential factors for cart abandonment and conversions.
How to Sell on Amazon Prime
The benefits of selling on Amazon Prime as an e-commerce business are clear, as are the ways to begin listing your inventory on Prime. Online sellers have two options: Fulfillment by Amazon (FBA) and Seller Fulfilled Prime (SFP).
Fulfillment by Amazon
FBA is a third-party fulfillment service, provided by Amazon, that automatically qualifies listings for Amazon Prime. Sellers ship their products to an Amazon warehouse. When an order is received, Amazon packs and ships the product. They can even manage returns.
To begin using FBA:
Add FBA in Seller Central
Prepare, pack, and label your products
Ship your products to an Amazon warehouse
As customers order items, Amazon will pick, pack, and ship
Seller Fulfilled Prime
SFP allows Amazon sellers to qualify for Prime while fulfilling orders themselves or using an outsourced fulfillment service.
To begin using SFP on your own:
Accept your SFP invitation or join the waiting list in Seller Central
Offer premium shipping either by fulfilling orders in-house or using an SFP 3PL
Complete the SFP trial, achieving a 99% on-time shipping rate, 98.5% use of Amazon Buy Shipping Services, and 0.5% or less cancellation rate
Maintain impeccable delivery and customer service standards
To begin using SFP with Deliverr:
Accept your SFP invitation or join the waitlist in your account
Sign up for a free Deliverr account and send us your inventory
Input your Amazon credentials in Deliverr
Tip: SellerActive merchants get access to SFP support through the SellerActive + Deliverr integration.
How to Choose FBA or SFP
With clear benefits and easy options, it can be confusing deciding between FBA or SFP when looking to benefit from Amazon Prime. To determine the best choice for your business, consider the following:
Time
FBA Saves Time: Amazon packs and ships your orders from their warehouse while you concentrate on more critical tasks such as growing your business. Although you still need to ship inventory to Amazon's warehouses, once you're done sending it out, Amazon will handle the rest.
SFP Takes Time: When you're doing it in-house, you'll have to handle the entire order-to-door process by yourself, while meeting Amazon's strict service level agreement standards.
Cost
FBA Saves with Quantity: FBA can save high-volume, small-item sellers money on warehousing and shipping rates, with fulfillment fees from $2.41 and storage fees from $0.69. However, those using multiple sales channels, or selling slow-moving, seasonal, or heavy items can be stung by FBA's long-term storage, removal, return processing, unplanned service, and multichannel fulfillment fees.
SFP Controls Costs: SFP gives you more control of your costs, but trying to meet SFP standards on your own could result in expensive setup costs.
Tip: Use this fulfillment calculator to compare fulfillment rates.
Delivery standards
FBA: Amazon is highly experienced at delivering items across the country at speed - something that you may struggle to replicate and maintain with self-fulfillment.
SFP: Trying to get on Prime on your own is likely to result in a lesser customer experience, unless you have a fulfillment network that's designed for speed and efficiency on par with Amazon and some 3PLs.
Branding and Control
FBA: All items delivered via FBA come in Amazon-branded boxes, so it'll be up to you to package your items and send them to Amazon in a ready-to-ship branded package.
SFP: SFP gives you great control over branding, item handling, packaging, delivery options, shipping carriers, and inventory. Online sellers looking to expand their business often prefer retaining this control to improve their customer's experience, but you'll need to weigh how important branding is if it comes at the cost of speed.
Locations and Coverage
FBA: Certain outsourced fulfillment providers have a multitude of warehouses, making it easy and cost-effective to ship items across the country, expanding your businesses' reach to 95% of searches while maintaining fast delivery.
SFP: The geographical limitations of SFP through in-house fulfillment can reduce your search reach to 30% unless you're willing to invest in multiple warehouse and shipping locations.
Multi-channel Selling
Multi-channel FBA isn't just expensive; it's also not allowed by many sales channels, including Walmart. FBA sellers must split their stock between warehouses, which reduces the stock available for purchase, as well as adds complications.
Multichannel sellers eager to outsource their fulfillment to one convenient provider can outsource fulfillment to Deliverr, while getting on fast shipping programs across marketplaces.

Grow Your Business With Amazon Prime
Amazon Prime is essential for any multi-channel seller using the marketplace, but how you go about appearing on Prime requires a little more thought. FBA is the obvious option, providing your business with the shipping speed, expertise, and low costs of a fulfillment machine.
But with outsourced SFP fulfillment providers offering the same speed, expertise, and competitive pricing across all of your sales channels, the obvious option isn't necessarily the right option for your business or your customers.
About the Author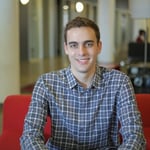 This is a guest post from Michael Krakaris. Michael is one of Forbes' 30 Under 30 and the co-founder of Deliverr. Deliverr provides fast and affordable fulfillment for your eBay, Walmart and Shopify stores, helping to boost sales through programs like Seller Fulfilled Prime, Walmart Free 2-Day Shipping, and eBay Guaranteed Delivery.

Deliverr's FBA-like multi-channel fulfillment comes with clear pricing, easy on-boarding, and a hassle-free experience so you can focus on growing your e-commerce business.