This 2018 article has been updated to reflect 2020 statistics.
It's not easy being Santa Claus.
Packaging and shipping all those products, keeping everything in stock across a massive warehouse, coordinating complex supply chains, making sure everyone gets the right gift on time…Things at the North Pole sound a lot like what online sellers go through during this time of year.
Especially in the year 2020! 57% of consumers plan to shop more online this year than they did in 2019.
It's an exciting time—you have the opportunity to take your successful business to the next level—but also an extraordinarily stressful one. Long nights, logistical challenges, and perhaps a few nog binges lie ahead.
But before you accept the stress-induced white beard and extra pounds, remember: even Saint Nick doesn't do it alone. He has elves to take care of the details and ensure the workshop runs smoothly.
And as an e-commerce seller, you can have the next best thing: SellerActive's repricing technology.
What is Automated Repricing?
Repricing follows a predetermined pricing strategy to adjust your inventory prices instantly and automatically. Like Santa's elves, it works around the clock to keep your products moving and your business humming.
It's a smart, cost-effective way to gain a competitive edge during the holidays—without hiring additional employees or disrupting your existing operations.
In fact, sellers who use SellerActive repricing during the holidays are able to win the Buy Box 72% of the time.
Best of all, with SellerActive, repricing takes only a few minutes to set up.
Not sure if repricing is right for you? Here are seven more reasons why automated repricing software is good for business this holiday season.
Avoid the Sting of Q4 FBA Fees
Fulfillment by Amazon (FBA) can be a great option for sellers who lack the capacity to store inventory and ship orders themselves. FBA also has its drawbacks, however, especially during the holiday season. Just take a look at the table below:
FBA Fees

Storage month

Before Mar. 1, 2020

Mar. 1, 2020 and after

January – September

$0.69 per cubic foot

$0.75 per cubic foot

October – December

$2.40 per cubic foot

$2.40 per cubic foot
That's right: from October through December, FBA storage fees increase by more than triple. That means it's more important than ever to sell your FBA inventory as fast as possible. No business can afford to allow stock to stagnate.
With smart, automated repricing, you'll offset the cost of storage fees. How? By maximizing your chances of winning the Buy Box while optimizing margins on every sale.
Leave No Money on the Table
Automated repricing is the only way to make sure you're selling for the highest possible Buy Box price, every time.
But the solution you use matters: Amazon only lets you set a price to match the Buy Box, or compete with a fixed amount. Once your price is set, Amazon keeps your price the same, whether you win that Buy Box, or not.
SellerActive's repricing capabilities automatically raise your prices when competition subsides. As a result, you'll not only increase your chances of a sale but keep your margins intact—a must during the holiday season.
Multichannel Listings Increase Exposure
Of course, the more marketplaces you list on, the more potential customers you have. But did you know that consumers who shop on more than one channel spend three times as much as single-channel shoppers?
Clearly, a multichannel approach has multidimensional benefits. During high traffic holiday sales events, however, keeping listings synchronized across channels can cause multiple headaches.
That's where repricing comes in. By using ecommerce repricing software such as SellerActive's, you can be sure your products stay competitively and equitably priced wherever you do business.
Take Advantage of Private Label Tools
Even if you have little or no competition, repricing can make a major difference during the holidays. With velocity-based repricing, private label sellers can a) get slow-moving products out the door and b) ensure the value of high-demand products correlates to supply.
Whether you have minimums or maximums in mind, SellerActive's velocity-based repricing algorithm is built to help you sell a specified number of products in a specified period of time. On top of that, we can increase website sales conversions with real-time marketplace price mirroring.
Get Some Sleep
As we've written before, repricing is all about speed.
SellerActive's automated technology updates prices within 46 seconds of your competition changing their prices—much, much faster than a human would be able to, manually.
And like Santa's elves, we work non-stop: 24 hours, day and night.
Keep Products Moving—on Your Terms
The holidays may be a hectic time for e-commerce sellers, but you don't need to sacrifice your business strategy (or your sanity) to succeed over the next few months.
Go beyond simply raising and lowering your prices in response to competition. Through rule-based repricing, you have the power to undercut other sellers through rules you determine and set in advance.
It's the difference between merely reacting to holiday pressure and soaring above it—sleighing the competition, if you will.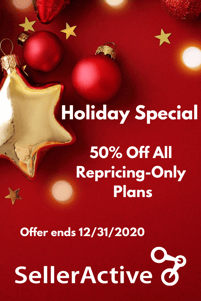 SellerActive Repricing Plans Are on Sale!
If you're ready to try automated repricing, but need a little extra jingle to seal the deal, here's a little gift from us to you.
For this holiday season only, SellerActive repricing-only plans are a whopping 50% off for new customers!
To get started, book a demo below, or email us at sales@selleractive.com.
Happy Holidays!