SellerActive's professional services helped Garage Art's owner save valuable time, and increase profit on channels new to their business.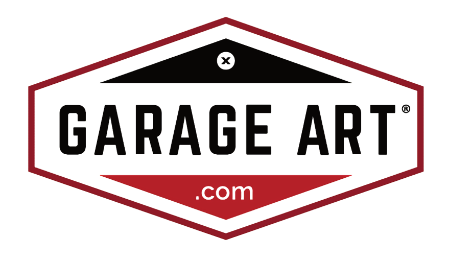 Garage Art got its start in 2006, when Kyle Johnson and his father, Steve, decided to turn their appreciation for gas and oil signs into a business that would better serve the general market.
The Johnson family had been collecting these types of signs for years before, but then pricing for original signs began to skyrocket, in the mid-2000s. Kyle and Steve wanted to keep this art form more affordable for the general public, so they founded Garage Art as a reproduction company.
"It was based on the idea of serving the memorabilia market, or giving the memorabilia market a way to buy reproduction signs, to enjoy the past," said Kyle. "We wanted to serve the automotive and memorabilia community with quality, made in the USA, reproduction decor."
As the business grew, so did their offerings. Garage Art now sells a little bit of everything for the garage: retro clocks, neon signs, gas pumps, trash cans, and more.
The Challenges of Growing a Business
At first, all Garage Art items were sold solely through their own website, but the Johnsons realized this didn't give them enough market share to be very profitable. They began offering products on online marketplaces but were only making around 5 percent of their sales through Amazon, and 5 percent through eBay. The remaining 90 percent was still being sold through their website.
Additionally, Kyle was stuck manually listing everything to each of the channels, so he started searching for software that would improve their multichannel ecommerce experience, and in a more time-efficient manner.
Eventually, he discovered SellerActive's multichannel platform, and was excited to learn how user-friendly it was, and how easy it was to integrate with their WordPress and WooCommerce sites.
Importing Orders With SellerActive's Inventory Management System
In April 2020, SellerActive began importing orders and syncing quantities between Garage Art's WordPress site, and other online retail channels. Simultaneously, Kyle began the SellerActive onboarding process himself.
Since he didn't have the time to list all of his products on his own, Kyle leveraged SellerActive's professional services to do the listing for him as a paid project. The team simply scoped the number of listings and how much time it would take.
Kyle was so happy with the results of the first project that he chose to pay for two more listing services projects.
Becoming A Multichannel Ecommerce Seller
The immediate assistance from the SellerActive platform helped increase Garage Art's sales on other sites. Kyle says the expansion to more markets has been a big help for their company, increasing their sales on various online marketplaces by 20 percent.
"We're starting to get more traction with Walmart, and more on Amazon, and it has helped a bunch. We're looking at a good return so far with SellerActive, and it can be hard to get that return back, in general, with other platforms or investments."
At one point, the Garage Art website did go down, and the company lost a good amount of data on their products. Thankfully, Nohea Duro, SellerActive's Service Implementation Manager, was able to help get their website back up and running by importing data that had been stored within SellerActive.
This was definitely a high point for the growing relationship between Garage Art and SellerActive, and Kyle also points to the excellent communication he's gotten as one of the top reasons he's enjoyed working with SellerActive.
"If you're a multichannel, ecommerce business owner, I think SellerActive is an excellent company to work with when it comes to implementing, organizing, and working with multiple channels. Especially to put it all in one place and be able to manage it all, and work more efficiently. And efficiency is the biggest thing, just to be able to save tons of time, when it comes to managing multiple channels."
Expand To New Online Marketplaces With SellerActive
If you're looking to expand your business online to new selling channels, a multichannel management system like SellerActive can help. We offer comprehensive inventory management software with dedicated support at a competitive price.
Our tool easily manages your inventory and helps you stay organized. Learn more about our e-commerce platform services and sign up for a 14-day free trial!