Many e-commerce businesses come to us when they need assistance navigating the profitability of eBay. And while many prefer to stay within the safer lanes provided by other sales channels, adding eBay to your digital strategy opens the door to a new set of valuable buyers you might be missing.
Let's look at the numbers: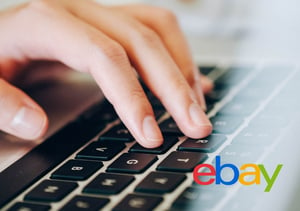 eBay is one of the leading e-commerce marketplaces and hosts 185 million active buyers
eBay saw a 5.1% increase in year-over-year sales after yielding $10.2 billion in revenue in 2020
About 40% of all items listed on eBay sell
Those stats highlight the platform's potential by telling us they have a massive audience that's growing and buying. That's good news for certain e-commerce sellers who haven't adopted eBay yet, as their marketplace offers untapped potential for specific vendors.
So, is selling on eBay worth it? Let's explore the most profitable items on eBay to figure out if it's right for you.
What to Sell on eBay
If you're a used marketplace or opting to sell used or refurbished products, it's essential to know that 80% of items sold on eBay are new. Still, sellers find plenty of success selling classic sports memorabilia, WWII collectibles, vintage jewelry, and rare items like vinyl records.
So, where does that leave your inventory when turning a profit on eBay? Fortunately, it's easy for sellers to discover what's popular on their platform by reviewing eBay's insights into what shoppers want.
Top Selling Products on eBay:
Automotive parts: Car parts for the exterior and interior as well as motorcycle parts
Apparel: Men's or women's clothing like shoes, accessories, bags, or sneakers
Collectables: Vintage jewelry, antiques, military equipment, vinyl records
Home & Garden Goods: Kitchen appliances, heating & cooling equipment, and outdoor tools
Health & Beauty: Vitamins & minerals, sexual wellness products, fragrances, and moisturizers
Sporting Goods: Bikes and bike parts, scooters, and hunting gear
Electronics: TVs, video games, consoles, audio equipment, and computer parts
Business & Industrial Products:

PLCs & HMIs, medical or dental supplies, inspection equipment, and professional instruments
Even if you don't fall within those top categories, tons of buyers use eBay to purchase items like cameras, hiking equipment, books, baby products, action figures, and various other products.
How to Get Started on eBay
So, how does selling on eBay work? Fortunately, opening a professional eBay store is easy when following our instructions.
You'll start by opening a business account, choosing your plan, and setting up a PayPal account to run automatic payments. From there, you'll verify your account and set your account preferences. The preferences you'll update are your:
Return policy
Payment options
Shipping details
Any other essential information that positions you as a trusted seller
Next, you'll brand the customer-facing side of your eBay store by naming it after your business plus your specialization and applying similar logic to the layout. Your design should include your logo and any other elements like featured products or images that make your store stand out.

When you're ready to start selling, follow our list of the 10 Best Selling Practices for eBay sellers to stay competitive.
Make Managing eBay Listings Easy With SellerActive
SellerActive customers who added eBay as a new marketplace to their multi-channel strategy saw average sales increase of 30%. When you're ready to expand your business beyond Amazon and Walmart, we'll be there to help.

Our e-commerce marketing platform lets you easily publish multiple listings across all of your marketplaces, simplify multi-channel inventory management, and keeps you competitive by offering automated repricing strategies. Quickly increase eBay profits by enrolling in a free 14-day trial SellerActive today.