It's become essential for e-commerce businesses to embrace new technology and strategies to stay competitive on platforms like Amazon and Walmart. As new competition surfaces daily, contending for the Buy Box by manually updating inventory is confusing and time-consuming. Have you tried using automated repricing software?
Automated repricing works by using software to reprice an item automatically by evaluating competitor data and products or specific conditions you set. Simply put, using a repricing strategy is one of the best ways for any e-commerce business to increase sales and move inventory.
Ready to learn how to win more Amazon and Walmart Marketplace Buy Boxes? Let's move forward by explaining how repricing can boost e-commerce sales.
Why E-Commerce Businesses Should Use Repricing Software
We designed our multichannel repricing software to help online businesses boost sales, improve search rankings, and simplify managing multiple online storefronts. Meaning, our e-commerce repricing platform keeps you ahead of the competition by setting the best listing price on Amazon or Walmart based on your goals and data.
That doesn't mean your prices will sell below cost. Instead, automated repricing software works in conjunction with the rules you set in the platform.
For example, if your competition deep discounts a product, you can set conditions limiting how low you're willing to part with that item. In contrast, if the cost of that item increases, repricing software can improve profit margins by upping the price accordingly. And that's just the tip of the iceberg.
4 Additional Benefits to Using Repricing Software for E-Commerce
Saves You Time: Say goodbye to manually updating prices by letting repricing software automate your listings when needed. When you use SellerActive, listings are automatically updated every 46 seconds.
Wins You More Buy Boxes: Automated repricing software like ours allows you to capture the buy box

72% of the time on average

.
Improves Your Strategy: Customize or set repricing strategies that suit your business and goals.
Helps You Stay Consistent: Use repricing software to automatically update listings across all platforms, including Amazon, Walmart, eBay, and others.

If you're ready to experience the benefits of repricing software, give us a try by starting a free 14-day trial.
How To Set Up SellerActive Repricing Strategies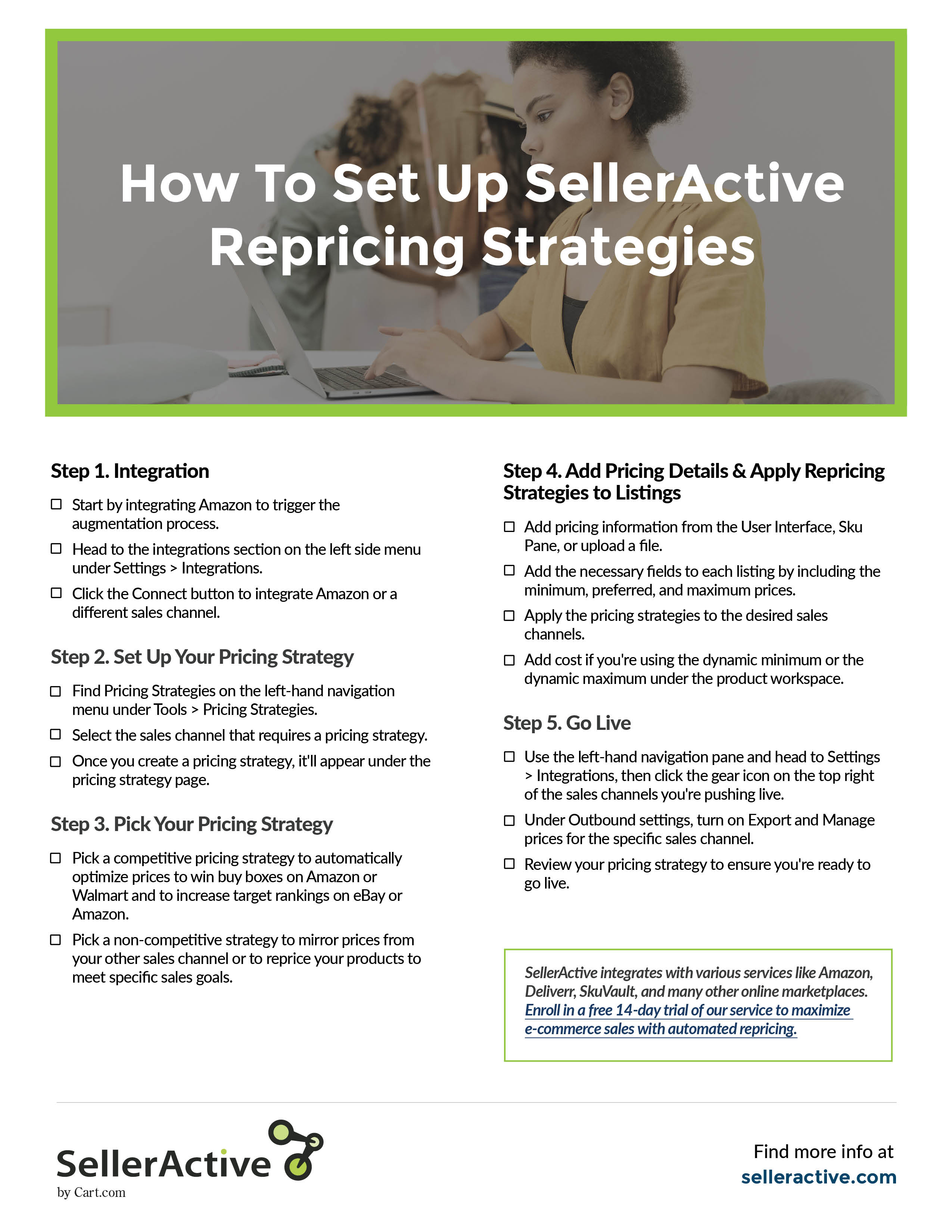 Competitive Vs. Non-Competitive Repricing Strategies
Repricing isn't simply about price adjustments—it's about thinking strategically. Our multichannel repricing software allows you to use two distinct strategies tailored to your goals: competitive and non-competitive repricing. Here's how both work.
Competitive
This strategy uses competitor data to reprice products against other sellers on marketplaces like Amazon, Walmart, and others. This method is terrific to get an edge over others by automating frequent price adjustments or offering the lowest price based on what other sellers set.
Use a competitive strategy to stay ahead of the game on platforms like Amazon, eBay, and Walmart. It's also particularly useful for new sellers looking to increase rankings by upping the odds of winning the Buy Box.
Non-Competitive
This strategy doesn't reprice your products based on competitor data. Instead, businesses take a non-competitive approach when they need to mirror prices from one marketplace to another or adjust the cost of a product based on sales data and goals.
Many of our customers use non-competitive pricing strategies to adjust prices on shopping carts, change the cost of branded items, meet sales goals, or simplify managing prices on Shopify, BigCommerce, Newegg, WooCommerce, and others.
We recommend using a mix of both strategies and running tests when adding a repricing strategy for the first time.
Start Improving Sales Today With Repricing
Remember that online shoppers are always looking for the best price, and not every manager has the time to change listings manually. So if you need a multichannel solution that streamlines, automates, and keeps you competitive across all of your online storefronts, win more Buy Boxes by starting a free 14-day trial with SellerActive today.