Selling on Amazon is getting more and more challenging every day, especially for business owners who are new to creating a selling or advertising strategy that will yield the greatest gains for their business. When starting out, most sellers focus their efforts on a few aspects of advertising. But eventually, as they gain more experience, they realize that there's a wide variety of advertising options and strategies.
Whether you are a new seller or a skilled merchant with some experience selling on Amazon, you should ensure that your products are ready to be showcased on the e-commerce titan.
Luckily, SellerActive has all the information you need to become a successful, brand on Amazon with the help of Amazon Advertising Tools.
Why You Should Advertise on Amazon
A great number of sellers are taking advantage of Amazon's advertising tools to ensure their products are retail-ready. Amazon has solidified itself as the third-largest digital ad platform in the U.S. only behind Google and Facebook.
Amazon offers the world's broadest range of products to its online shoppers. As a seller, Amazon's Advertising tools make your products stand out from the crowd, and improve your advertising strategy. Amazon's Advertising tools keep your customers engaged and make their shopping experience more enjoyable.
Best Amazon Advertising Tools
Amazon is constantly launching new features to its already comprehensive advertising console. These advertising tools make it easier for brands to list products on Amazon, create improved Amazon advertising strategies, and grow their business.
7 Amazon Advertising Success Factors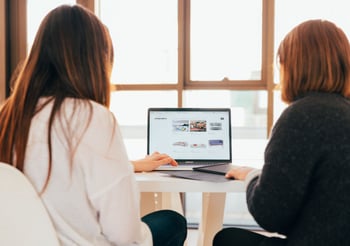 If you're a business owner looking to expand the channels you sell on, it's hard not to sell on Amazon. The platform receives more than 2.45 billion US visits every month and has been a leader in online sales for years. But getting your products on Amazon is just the first step. Properly optimizing your inventory listings can be the difference between a successful Amazon advertising strategy and a stagnant one.
Once you have your inventory up on Amazon, make sure these product features are updated to reach more Amazon shoppers.
1. Product Title
Keep your title simple and to the point..The length of titles is determined by the product category, but generally, Amazon allows up to 200 characters. For maximum results, aim for around 80 characters to ensure a positive customer experience.
The title requirements are the same across all fulfillment options: Fulfillment by Amazon (FBA), Seller Fulfilled Prime (SFP), and Merchant Fulfillment Network (MFN).
2. Description and Bullet Points
Your description must be friendly, short, and honest. There is a maximum length of 2000 characters allowed, but try to keep it under 500 characters, and most importantly, don't forget to add keywords!
Each product should also have on average five bulleted details. This is the general structure you should follow when writing the description of your product into bullet points:
Overall synopsis of your product
Material type (Is assembly required?)
Major feature(s)
Minor feature(s)
Warranty
Help your customers make educated purchasing decisions with the right product description.
3. Product Images
Make sure your images match the product title. Also, keep in mind that Amazon does not allow any graphics, illustrations, mockups, placeholders, props that might confuse the customer, text that is not part of the product, Amazon logos, or watermarks.
You will have to send several images of the same product so Amazon can determine which best represents the features you are mentioning in your description. It can take up to 24 hours to get a response from Amazon about the eligibility of your images. Keep in mind that Amazon uses complex image ranking technology to determine display images.

4. Customer Reviews and Star Rating
Buyer satisfaction is a business growth indicator, and your rating represents the quality of your service. A high rating is essential to increase Amazon conversion rates.
In fact, if you fall below 4 stars, your overall conversion rate will plunge.
Monitoring customer reviews can help you identify and correct product or listing defects, detect and report abuse, or comment on customer reviews.
Reviews data is published on the customer reviews page within 24 hours of when the review is published on the product detail page and they are retained for 30 days.
If you discover a review that doesn't conform to Amazon's customer review policies or its customer review creation guidelines, you can report abuse from the product detail page.
Note: To report abuse, click the Report abuse from detail page link under the review in the Brand Dashboard (this will take you to the review on the customer-facing detail page) and click the Report abuse link which will pop up a confirmation box where you will click Report. Amazon will remove any review that violates its policies in which case it will also be removed from the customer reviews page in the brand dashboard. Brands with a pattern of improperly reporting reviews as abusive will have their access to the Brand Dashboard revoked. [Source: Amazon]
5. Inventory
Unlike Amazon Warehouse Deals, where buyers shop for deals on returns and refurbished items, Amazon Outlet is designed to offer newly discounted products. This program can help you increase sales, improve cash flow, optimize inventory levels, and reduce total storage fees.
Amazon selects which offers are featured on the Amazon Outlet page.
There are two types of offers:
Outlet deals: These are promotional offers submitted via Create an Outlet deal. Selected deals are featured on Outlet for a period fixed by Amazon, usually two weeks.
Outlet sales: These types of sales are the price reductions submitted via Create a sale. Selected sales are featured on Outlet based on factors that include customer demand and product star rating.
6. A+ Content (previously "Enhanced Brand Content")
A+ Content is a tool that functions as an asset that can help you in your conversion. Therefore, even Amazon suggests that you should combine it with other programs such as ads, deals, or coupons to help you get better results.
This new tool, available on both Vendor Central and Seller Central, allows you to modify your listings by adding rich content, a unique brand story, enhanced images, and text placements to your A+ Detail Pages.
7. Amazon Buy Box
You probably already know how important it is to win the Buy Box. Although Amazon doesn't have a set formula on how to win it, there are several things you can do to increase your eligibility, such as responsiveness, speed of delivery, the condition of your products, the number of orders you have canceled, customer reviews, price competitiveness, and of course, your advertising strategy.
Advertise Your Products on Amazon with SellerActive
Having your products ready for advertising is one of the most important components of successful marketing on Amazon. Going over all the success factors above can ensure you provide your customers with the best selling experience. At the end of the day, your advertising approach will mirror your brand's value—for better or for worse.
There are many manual ways to update your product listings on Amazon, but using an e-commerce tool like SellerActive is one of the most effective ways to keep listings updated and advertise your business. Learn more about our Amazon inventory management services and sign up for your 14-day free trial today!